There is no license information available for the latest version (2.0.2) of this package.
Craft CMS Template
Maintainers
Details
github.com/giorgiopogliani/craftcms-starter-template
2.0.2
2022-04-09 12:02 UTC
---
README
Simple craft cms starter template fully responsive, built with Tailwind CSS, AlpineJS 3.0, ViteJS and Twig Components (like Laravel Blade Components but for twig).
Start
composer create-project giorgiopogliani/craftcms-starter-template --stability=dev website

Copmlete the setup or edit your manually update your .env file to match your configuration. To manually install craft run this command.
php craft install/craft 

After installing craft install the vite plugin, then you can install dependencies and start vite dev server.
php craft plugin/install vite
npm install
npm run dev

If your environment is dev, the vite plugin will try to access the dev server, in production the vite plugin will try to access compiled assets. More info at https://nystudio107.com/docs/vite/
Macros
Forms
Image
Menu
Image
Pagination
Title
container
title
button
logo
Blocks
text: two columns layout section
Pages
404
503
Posts (entry, index and item)
Partials (in _layoyts)
favicon (with asset field in globals)
footer
header
seo (ether/seo plugin)
Extensions
added functions, available globally with a twig extension, you can add your own at modules/extensions\UtilsExtension.php
Preview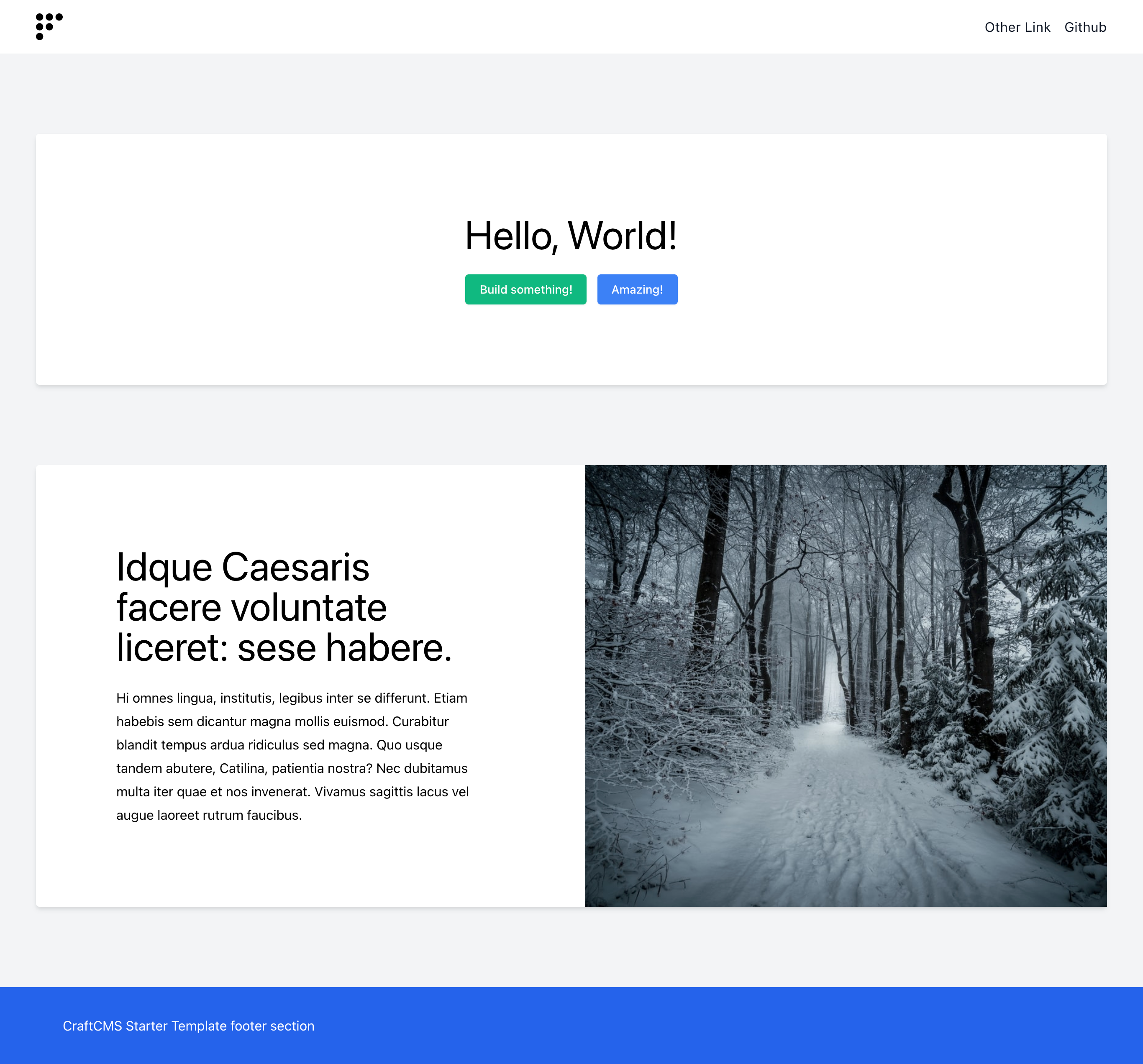 Plugins
List of preinstalled plugins to solve common task when building a website.
craftcms/redactor 
ether/seo 
nystudio107/craft-vite
pennebaker/craft-architect 
performing/twig-components 
sebastianlenz/linkfield 

Deploy
deploy.sh
Very simple script to upload all files to a remote location. It works as a wrapper of lftp or rsync. You can update the configuration at the start of the file.
deployphp/deployer
You can find a deploy.php that work with deployer, a zero down-time deploy utilty. You should update the configuration with your deatails to make it work. In the .github folder there is also a deploy.yml to deploy with github actions.
License
The MIT License (MIT). Please see License File for more information.