Autocomplete Suggestion Field
Maintainers
Details
github.com/otago/autocomplete-suggest-field
4.3.0
2019-05-24 03:37 UTC
---
README
Use the 3.0 version for SilverStripe 3.*, and the 4.0 version for SilverStripe 4.*
Allows the user to select from a list of options while typing. It saves an ID against a field; be in Int, Text etc. Some handy use cases would be; selecting a CSS class from a large list, selecting a user from a remote API, or selecting a SilverStripe member when you have thousands of members.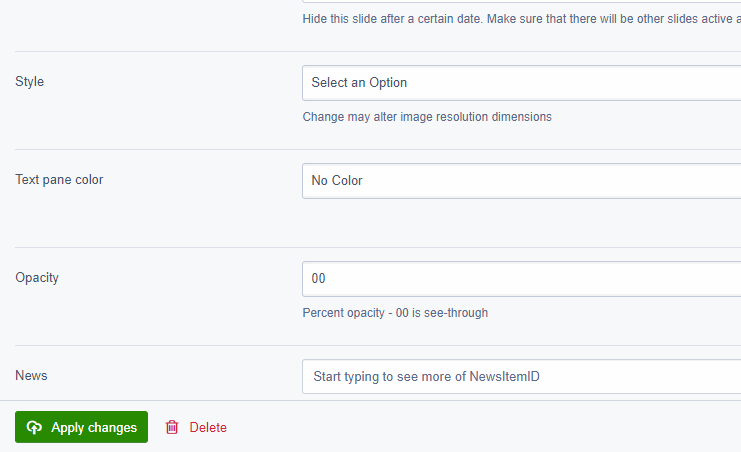 Installation
composer require otago/autocomplete-suggest-field
Features
Flexible autocomplete This fields lets a developer customize what goes into the autocomplete list. It populates an HTML5 element that lets the user select an option via AJAX. To build an ajax list, create an action against the provided controller with the name autocomplete. It takes a GET parameter , and outputs a json array with the format id:etc, name:etc.
Friendly display names You can have a $has_one or $db living on a DataObject or Page, and display a friendly name instead of an ugly ID. This makes your code base tidier, lets you forget about having to force a many_many when you don't really need it, and allows your cms admins to not hate your face.
Frontend and backend compatible the only requirement is jQuery. No entwine needed.
expose the JS files
composer vendor-expose
Tests
vendor/silverstripe/framework/sake dev/tests/AutocompleteSuggestTest
Support
All modern browsers support this feature.. older MSIE versions do not work
Basic example
The following will create a search field in the CMS. Note the logged in user has to have access to the Member object. Searching logic is handled by a controller which comes out the box with autocomplete-suggest-field.
<?php





use

 

OP

\

AutocompleteSuggestField

;


use

 

SilverStripe

\

Security

\

Member

;



class

 

MyFavouriteUserPage

 

extends

 

Page

 {

	

private

 

static

 

$

has_one = 

array

(
		

'FavouriteUser'

 => 

Member

::class
	);
	

public

 

function

 

getCMSFields

() {
		

$

fields = 

parent

::

getCMSFields

();

		

$

suggesteduser = 

AutocompleteSuggestField

::

create

(

'FavouriteUserID'

, 

Member

::class);
		

$

suggesteduser->

setDescription

(

'Enter text to search for your favourite user'

);
		

$

fields->

addFieldToTab

(

'Root.Main'

, 

$

suggesteduser);

		

return

 

$

fields;
	}

}
custom search examples
Below shows how a developer can create custom search queries on the same file to return results
<?php





use

 

OP

\

AutocompleteSuggestField

;


use

 

SilverStripe

\

CMS

\

Controllers

\

ModelAsController

;


use

 

SilverStripe

\

Control

\

HTTPRequest

;


use

 

SilverStripe

\

View

\

Requirements

;


use

 

SilverStripe

\

Security

\

Member

;




class

 

MyFavouriteUserPage

 

extends

 

Page

 {

	

private

 

static

 

$

has_one = 

array

(
		

'FavouriteUser'

 => 

Member

::class
	);
	

public

 

function

 

getCMSFields

() {
		

$

fields = 

parent

::

getCMSFields

();

		

$

suggesteduser = 

AutocompleteSuggestField

::

create

(

'FavouriteUserID'

, 

ModelAsController

::

controller_for

(

$

this

), 

'Favourite user'

, 

null

, 

$

this

);
		

$

suggesteduser->

setDescription

(

'Enter text to search for your favourite user'

);
		

$

fields->

addFieldToTab

(

'Root.Main'

, 

$

suggesteduser);

		

return

 

$

fields;
	}

}



class

 

MyFavouriteUserPageController

 

extends

 

PageController

 {

	

private

 

static

 

$

allowed_actions = 

array

(
		

'autocompleteFavouriteUserID'

,
	);

	

/**




	 * searches users in the local db




	 * @param SS_HTTPRequest $httprequest




	 */


	

public

 

function

 

autocompleteFavouriteUserID

(

HTTPRequest

 

$

httprequest) {
		

Requirements

::

clear

();
		

$

query = 

$

httprequest->

getVar

(

'query'

);
		

$

returnarray = 

array

();

		

if

 (

$

query && 

strlen

(

$

query) > 

1

) {
			

$

name = 

explode

(

' '

, 

$

query);

			

$

members = 

array

();
			

if

 (

count

(

$

name) === 

1

) {
				

$

members = 

Member

::

get

()->

filter

(

array

(

'FirstName:StartsWith:nocase'

 => 

$

name[

0

]))->

limit

(

10

);
			}
			

if

 (

count

(

$

name) > 

1

) {
				

$

members = 

Member

::

get

()->

filter

(

array

(

'FirstName:StartsWith:nocase'

 => 

$

name[

0

], 

'Surname:StartsWith:nocase'

 => 

$

name[

1

]))->

limit

(

10

);
			}

			

foreach

 (

$

members 

as

 

$

member) {
				

$

returnarray[] = 

array

(

'id'

 => 

$

member->

ID

, 

'name'

 => 

$

member->

getName

());
			}
		}

		

print_r

(

json_encode

(

$

returnarray));
	}

}
A more complicated example that pulls in data from an external API
Note the office365 object does the actualy Ajax + parsing of the data
class

 

TeamPage_Controller

 

extends

 

Page_Controller

 {

	

private

 

static

 

$

allowed_actions = 

array

(
		

'autocompleteTeam'


	);

	

/**




	 * used to autocomplete the teams on office 365




	 * @param SS_HTTPRequest $httprequest




	 */


	

public

 

function

 

autocompleteTeam

(

SS_HTTPRequest

 

$

httprequest) {
		

Requirements

::

clear

();
		

$

query = 

$

httprequest->

getVar

(

'query'

);
		

$

returnarray = 

array

();

		

if

 (

$

query && 

strlen

(

$

query) > 

1

) {
			

$

searchresult = office365::

searchForTeam

(

urlencode

(

$

query));
			

foreach

 (

$

searchresult->

value

 

as

 

$

team) {
				

$

returnarray[] = 

array

(

'id'

 => 

$

team->

id

, 

'name'

 => 

$

team->

displayName

 . 

' ('

 . 

$

team->

description

 . 

')'

);
			}
		}

		

print_r

(

json_encode

(

$

returnarray));
	}
}